Doob's new house !
Photos of the house.
It's his now - as of September 24th!

The address:
3164 Todd Way, San Jose CA 95124
(408) 377-6632

(You can click on each picture to see a larger version.)

Click here to see the floorplan

Doob was represented by Mark Burstein (http://bursteingroup.com)


Who turned out the lights? (See the car in the window?)
Living room and entryway.


The bar.
The bar. The panelling is going, as is the T-bar ceiling.
The bar, again.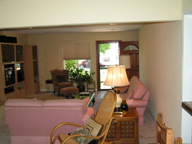 PictureX009
PictureX010
PictureX011
PictureX012


Skylight in the kitchen ... which of course wants new appliances and granite...
PictureX014
PictureX015


PictureX016
PictureX017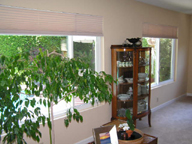 PictureX018
The somewhat claustrophobic back yard would be helped by some french doors or a big slider to create a way to use some of the living room as outside space during a party... cuz there ain't much room to hang out on the patio..
but who cares? It has a huge pool...
PictureX021


PictureX022
PictureX023
Jacuzzi


PictureX025
PictureX026
PictureX027


Don't trip coming outside ...
PictureX029
w/ access to the master bdr


PictureX031
PictureX032


Master bathroom
PictureX034
We'll be needing new electric outlets.


Skylight in the retreat in the master suite
PictureX037
Guest (middle) bedroom. Consider updating the closets - mirror doors, not monotone, etc ...


The room doors have since been updated to the 6-panel "Colonist" style.
PictureX040


Hall bathroom
PictureX042
PictureX043


Front bedroom - now a guest room
PictureX045


mirror doors, please, and new knobs above.
PictureX047


PictureX048
PictureX049
PictureX050


PictureX051
PictureX052
PictureX054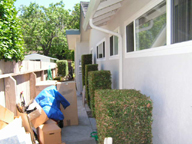 PictureX053
PictureX055
Woof...


PictureX057
PictureX058


front yard is huge!
Awesome car, underneath fruit-bearing tree harboring pigeons ...
PictureX061


PictureX062
PictureX063
PictureX064


PictureX065
PictureX066
PictureX067


PictureX068
PictureX069
Two houses to the left...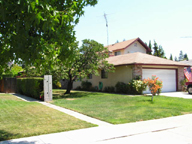 The other house next door.