The Shnergus gets a TV
The Shnergus gets a new TV. We even installed it on the fireplace.
Here are some photos for your viewing pleasure ...

(You can click on each picture to see a larger version.)
CIMG6297.JPG
CIMG6298.JPG


CIMG6299.JPG
CIMG6300.JPG


CIMG6301.JPG
CIMG6302.JPG


CIMG6303.JPG
CIMG6304.JPG


CIMG6305.JPG
CIMG6306.JPG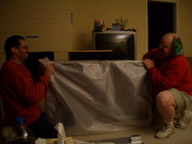 CIMG6307.JPG
Okay, we couldn't decide between the Zenith and the Panasonic, so we got both, so we could compare.
The Panasonic won.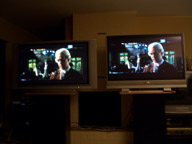 CIMG6311.JPG
Boy, have we got a cure for sinus pressure!
CIMG6313.JPG
CIMG6314.JPG


CIMG6315.JPG
CIMG6316.JPG


CIMG6317.JPG
CIMG6318.JPG


CIMG6319.JPG
CIMG6320.JPG


CIMG6321.JPG
CIMG6322.JPG


CIMG6323.JPG
CIMG6324.JPG


CIMG6325.JPG
CIMG6326.JPG


CIMG6327.JPG
CIMG6328.JPG


CIMG6329.JPG
CIMG6330.JPG


CIMG6331.JPG
CIMG6332.JPG


Woo hoo!
CIMG6334.JPG


CIMG6335.JPG
CIMG6336.JPG


The fireplace tries to suck in the Shnergus ...
CIMG6338.JPG


CIMG6339.JPG
The Zenith leaves to go back to the store ...


Copyright © 2007, The Grand Shnergus. All rights reserved.